A weekend in Seattle on a budget
Article updated on 07.20.22
On our big Pan American road trip (in May 2022), we were lucky enough to spend several days in Seattle while waiting to find our future home on wheels. We were at the very beginning of our trip. Our goal was to limit our expenses as much as possible. Thanks to these few days in the city, we discovered several places to visit for free and we ate for a small price.
We have listed these different places so that you can also enjoy visiting the city for a weekend, all on a small budget.
How to get around in Seattle?
If, like us, you're flying into Seattle, we highly recommend taking the Link Light Rail. It's a much cheaper way to get to downtown than by cab or Uber.
The ride costs $3 per person and takes about 40 minutes to Downtown. Yes, it may seem like a long 40 minutes train ride, but the time flies by when you look at the scenery.
To find the station, you have to walk about 5-10 minutes through the airport. Everything is very well indicated. Just follow the signs. You will have to go to the footbridge that accesses the airport parking and then access the station.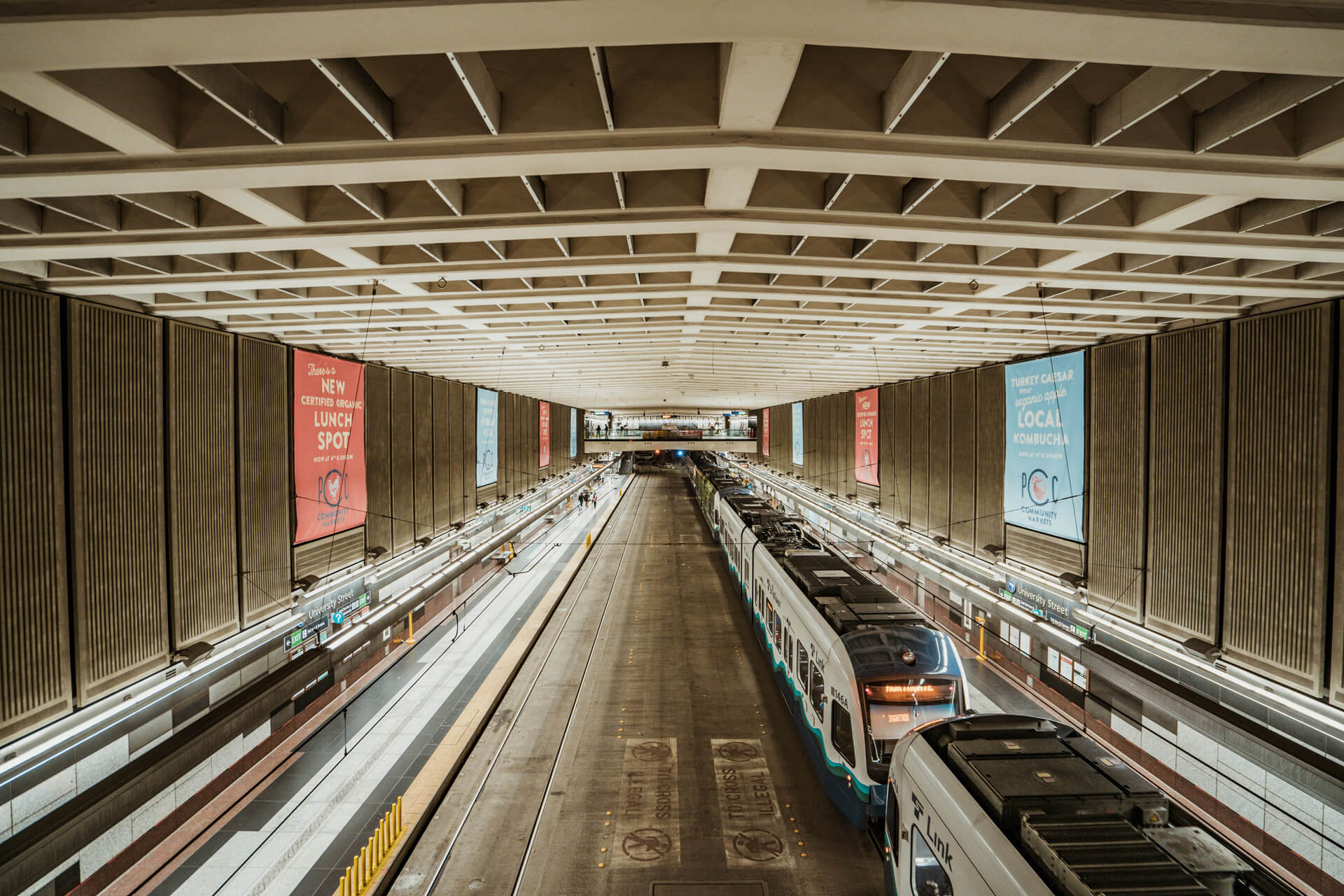 Where to stay in Seattle?
Unfortunately, accommodation is very expensive in this area. We have two interesting options for sleeping in Seattle. It all depends on what you want/need.
The Green Tortoise Hostel
Advantages:
Very conveniently located downtown, next to the Public Market Center (Pike Place Market)
Breakfast included in the price with eggs that can be cooked in the common kitchen
The price in the dormitories is correct
Possibility to cook in the common kitchen
Disadvantages:
The rooms are quite rustic
The price for a double room is quite expensive for a youth hostel (about $100)
Website: http://www.greentortoise.net/
Location on Google Maps : https://g.page/GreenTortoiseSeattle?share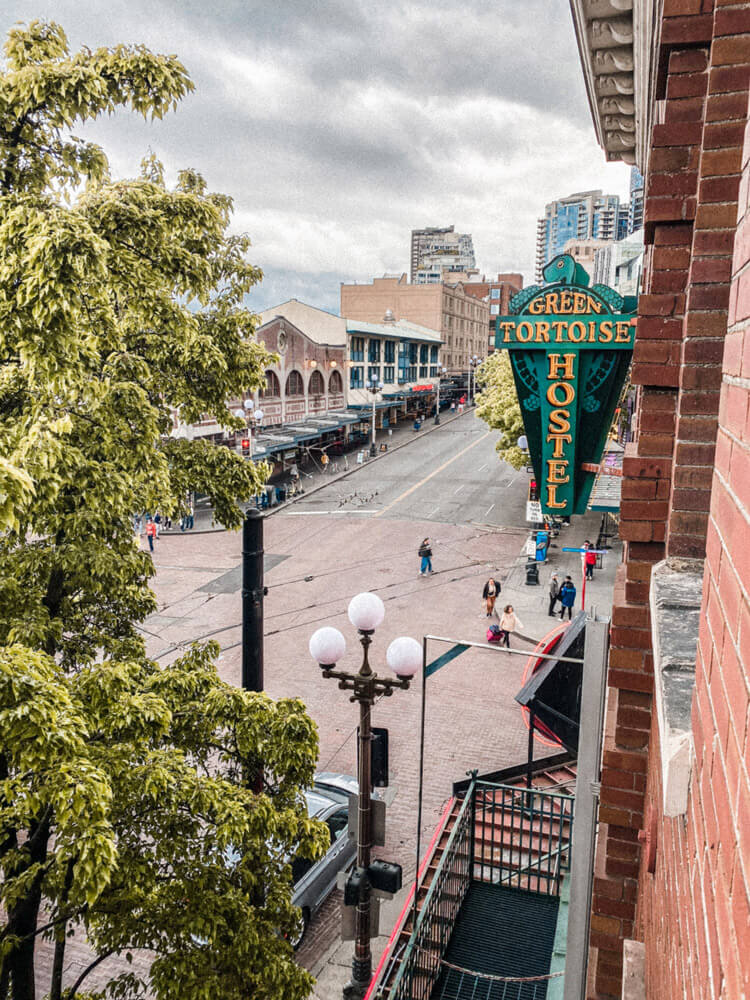 View from the room of Green Tortoise Hostel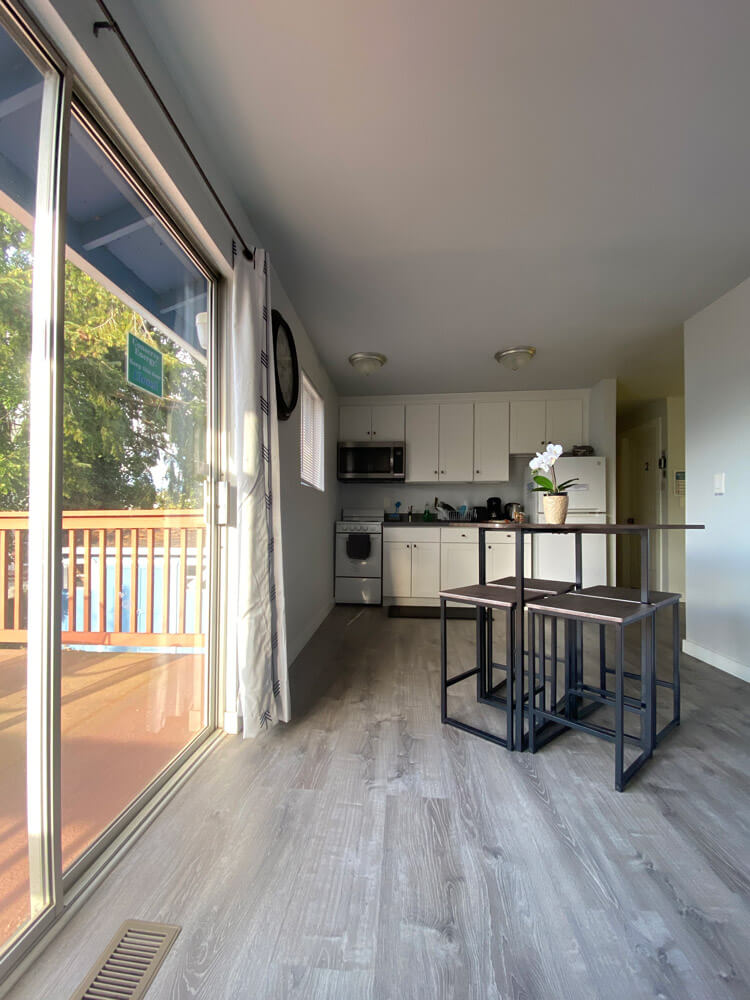 The shared kitchen of the Rainier Guesthouse
We unfortunately didn't have time to try many restaurants in Seattle, but here are the few places we had the chance to visit and that we recommend.
Cherry Street Coffee House
« Cherry Street Coffee House » is a chain with several coffee shops downtown. Their coffee is excellent and it is possible to buy a small delicious snack.
Website : https://coffeecherryco.com/
« Coffee Anchorhead » another very nice coffee chain with delicious little snacks (they even offer a vegan muffin :D). It is possible to rest and charge your electronic devices while enjoying their wifi.
Website: https://anchorheadcoffee.com/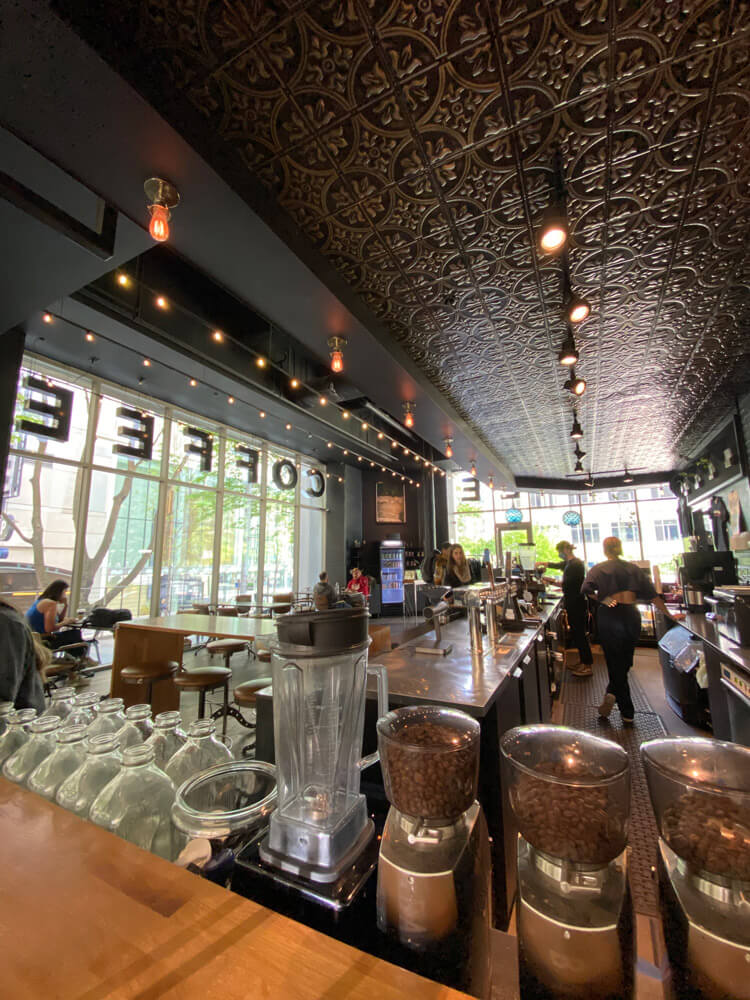 Public Market Center (Pike Place Market)
A trip to Seattle without visiting the famous Pike Place Market would not be a true visit to the city. As you can see, you should absolutely take the time to stroll through this pretty market which has all kinds of stands: artisans, flowers, fruits and vegetables, clothes and food. While strolling, you should not hesitate to taste one or more small dishes to satisfy your taste buds. In addition to being delicious, the prices are quite reasonable. A winning combo!
Be careful with the opening hours which are from 9am to 6pm.
Location on Google Maps : https://goo.gl/maps/nN7mApHY12YQDUSk7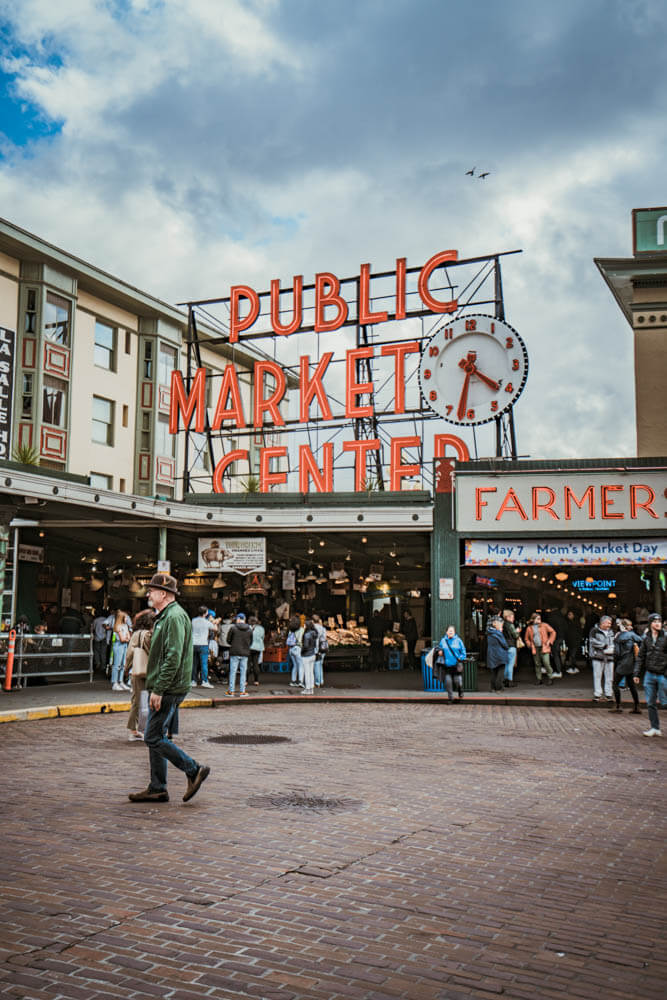 The entrance to the Market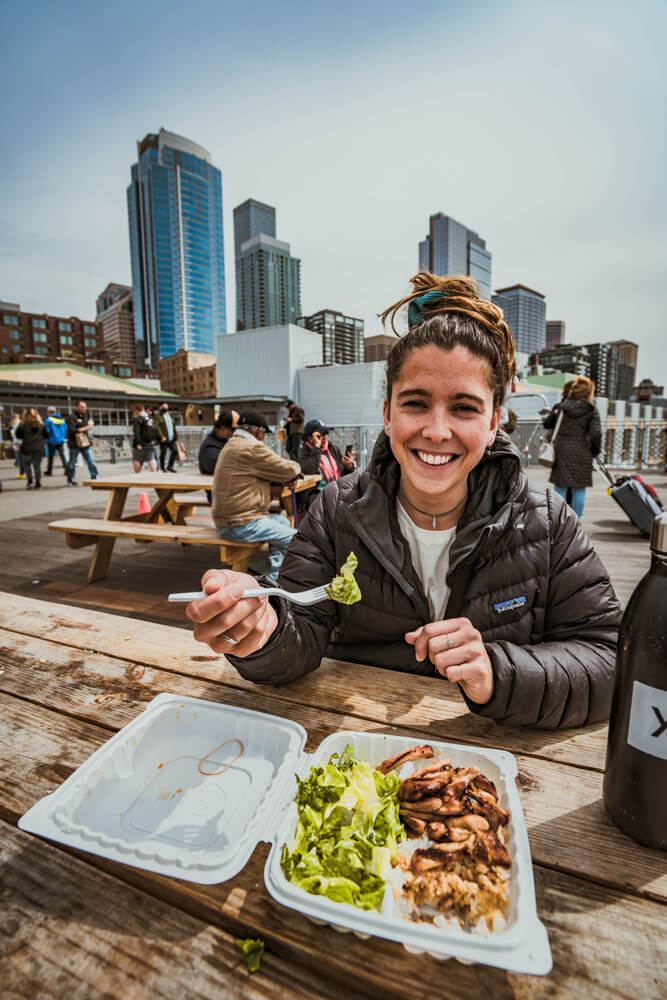 Free activities in Seattle
Public Market Center (Pike Place Market)
Between the fine dining, the fruit and vegetable stalls and the artists who exhibit their creations, Public Market Center is the city's attraction worth visiting.
Coworking place for Amazon employees, it is possible to visit this atypical place on the first and third Saturdays of the month between 10am and 6pm.
The Space Needle and its park
Emblematic of Seattle, this tower is located in a park that is filled with art and museum.
A pleasant place to stroll along the waterfront.
Downtown Seattle & Pioneer Square
With its many different alleys, Seattle is full of surprises and photogenic places.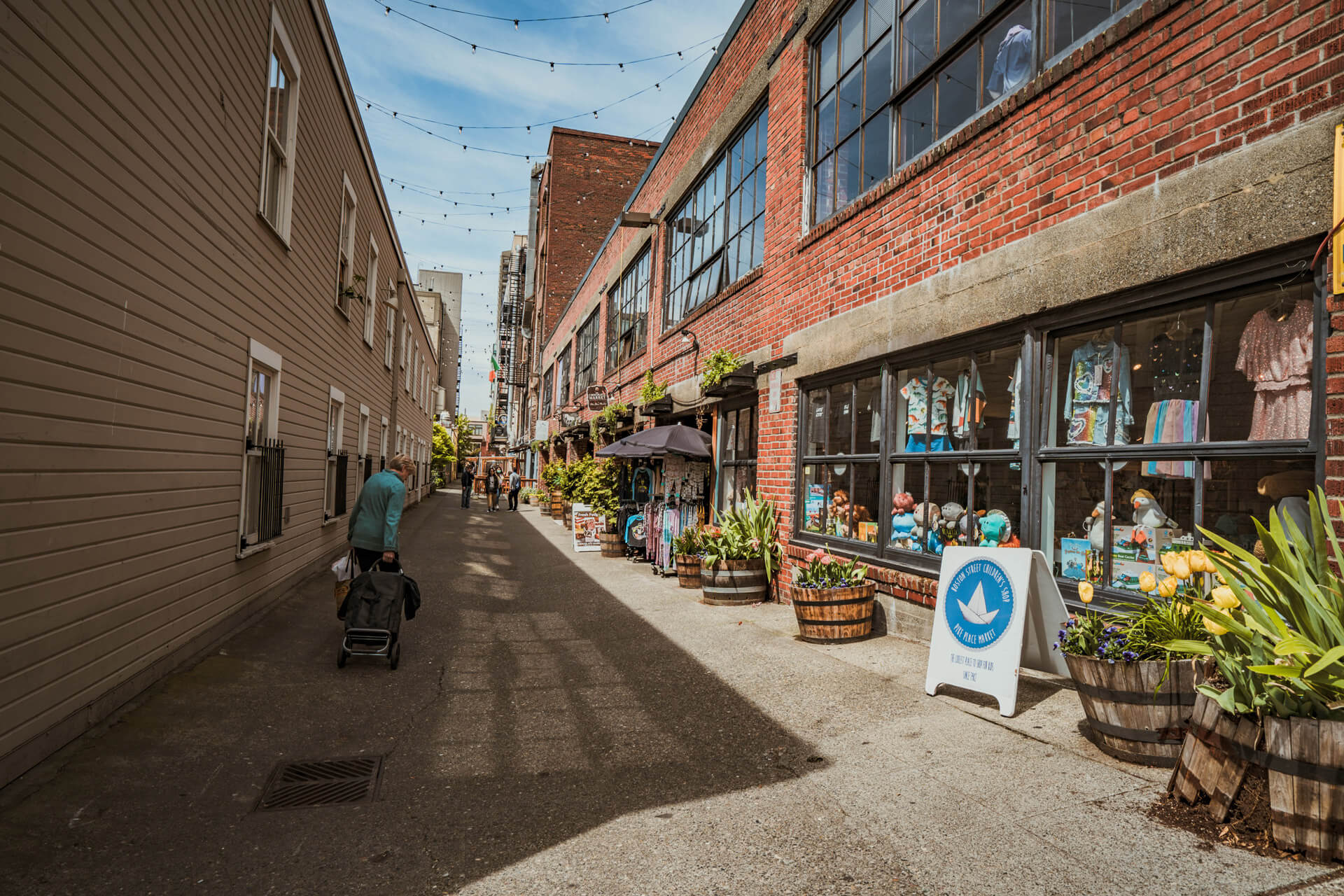 A small alley near the Pike Place Market
The different styles of architecture in Downtown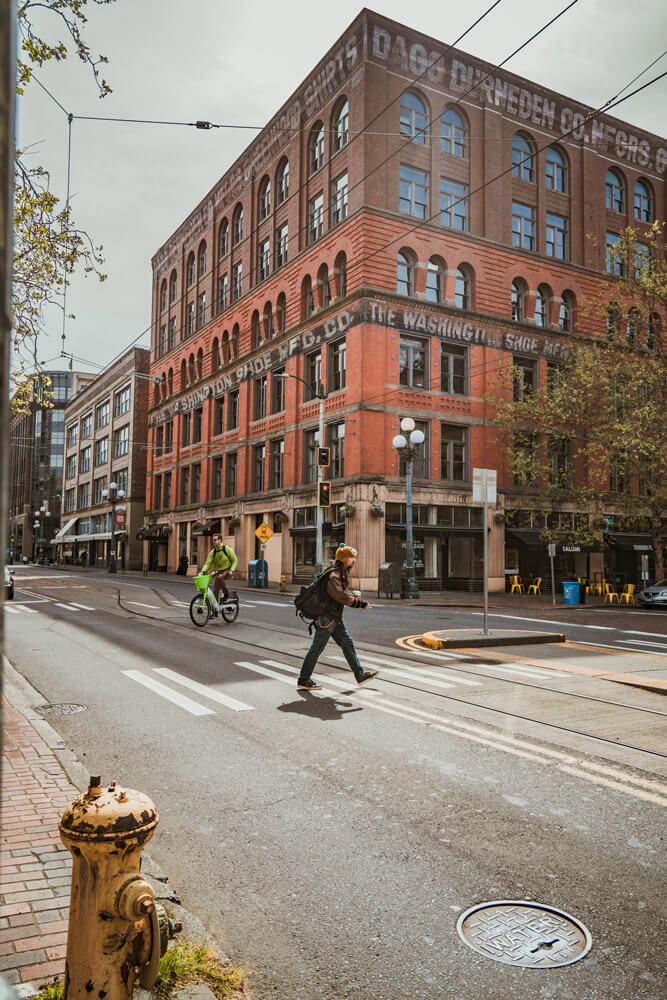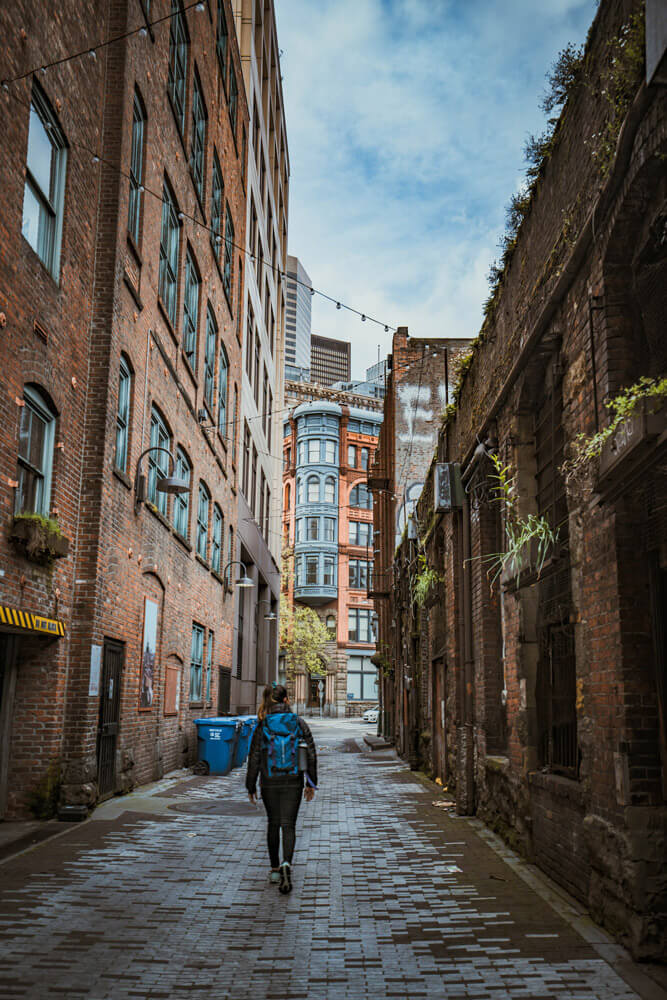 A small alley in Pioneer Square
A waterfall in the middle of downtown, it's not every day that you see that. Attention to the opening hours from 8:00 am to 3:45 pm.
The architecture of this building is worth a visit. Take the escalators upstairs and admire the glass windows from the top.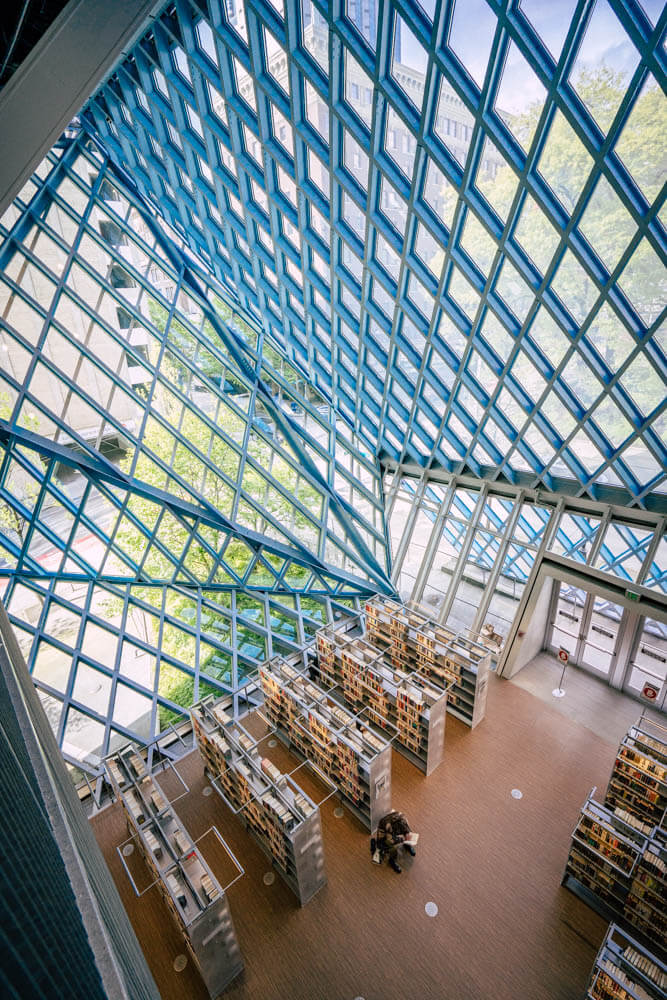 The interior of the library
Our suggested itinerary for two days in Seattle
Here is a small itinerary that we suggest you to visit the city of Seattle during a weekend with a small budget.
To start the day on a good basis, we advise you to order a good coffee at Coffee Anchorhead . With your coffee in hand, you are ready to walk in the alleys of the city.
We advise you to walk towards Space Needle via the Amazon districts. You can admire from the outside of the transparent building The Spheres which is decorated with plants inside. It is possible to visit the first and third Saturday of the month between 10 a.m. and 6 p.m. If you are lucky, you can even receive a free banana in an Airstream trailer next to The Spheres.
Arrived in front of Space Needle , take the time to walk in the park, there are lots of beautiful things to see without spending any penny.
To return to the center, this time go through the waterfront , the water edge, to discover another aspect of the city.
To end this beautiful day, before 6:00 p.m., visit the market Market Center market (Pike Place Market) and taste good dishes in the stands. And why not, drink a good Seattle beer at The Pike Pub.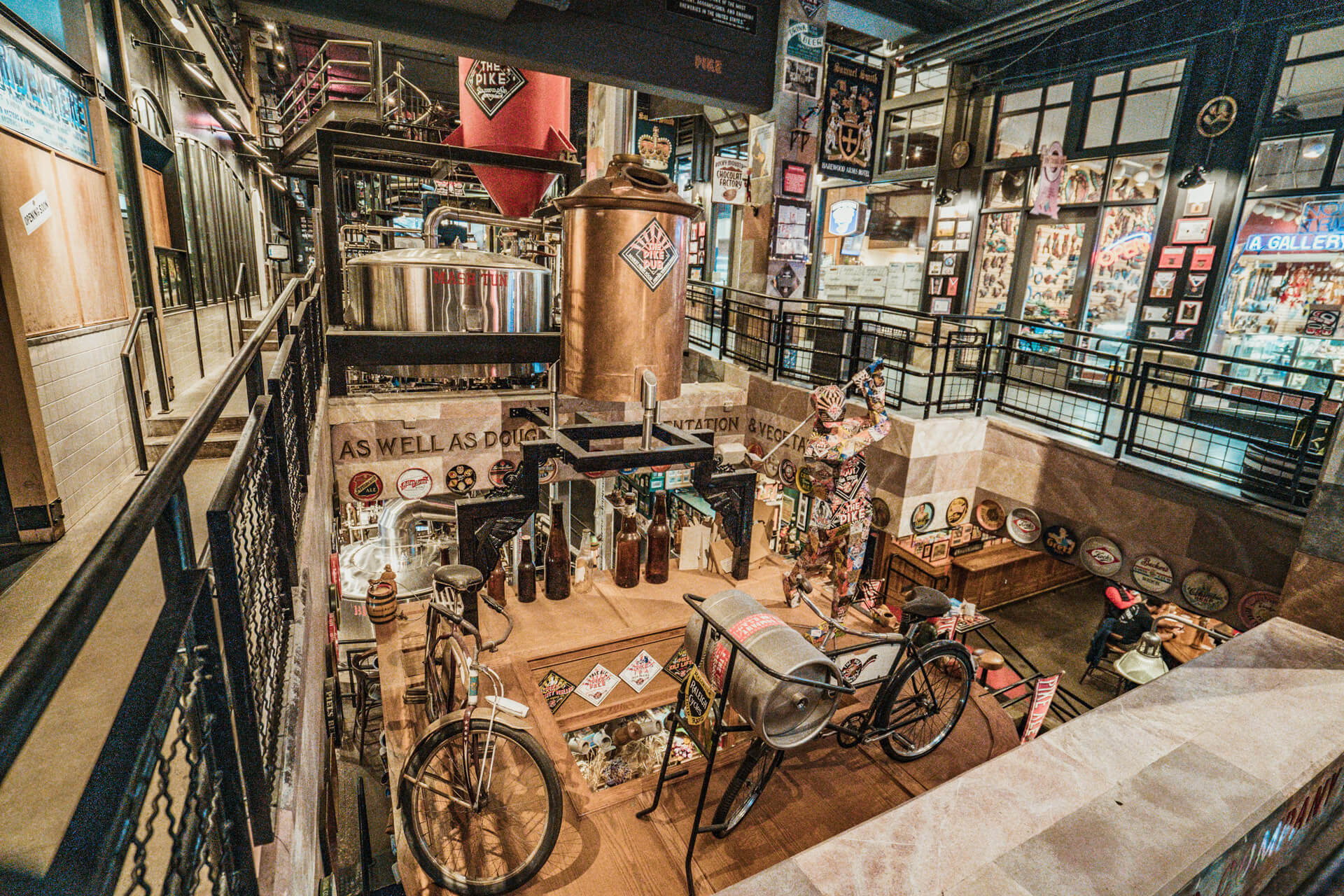 For this second day, we invite you to test another coffee Cherry Street Coffee House which is in several places in Seattle, it's up to you to choose the one closest to your accommodation.
For the rest of the day, head to the district Pioneer Square . If you come from the Green Tortoise Hostel, you will discover small alleys all cute on the way.
Take the time to go and admire the Waterfall Garden which is very atypical and very resourceful.
Returning towards the center, make a small detour to the Central Library which has an impressive architecture. Inside, you can go from one floor to another, leaf through a few books and take free wifi.
And to satisfy your taste buds, we advise you either to go to the HAPPY HOUR of Noi Thai Cuisine if it is between 2:30 p.m. and 6:00 p.m. or to taste a good Mexican vegan dish at el Borracho .
Did you like the article?
Pin it !