Article updated on 10.18.22
Here is an article that summarizes the steps to take to ensure that your border crossing between the USA and Baja California (Baja) goes smoothly. First advice, don't listen to the Americans who warn us against going to Mexico by crossing the border in Tijuana. We did it and had no problems as did many other travelers with whom we talked throughout our trip.
Preparation to cross the border in Tijuana
As with any trip, you have to prepare yourself to discover a new country with a different culture. With the stress of crossing the border, it is possible to not know where to start, so here is a small summary of each step to remember.
In Mexico, as in the USA, it is mandatory to purchase car insurance. Everything can be done online. There are several companies offering this service, so it is important to make your choice according to your needs. Personally, we have chosen Baja Bound which cost us $382 for 6 months. The price will vary depending on your vehicle.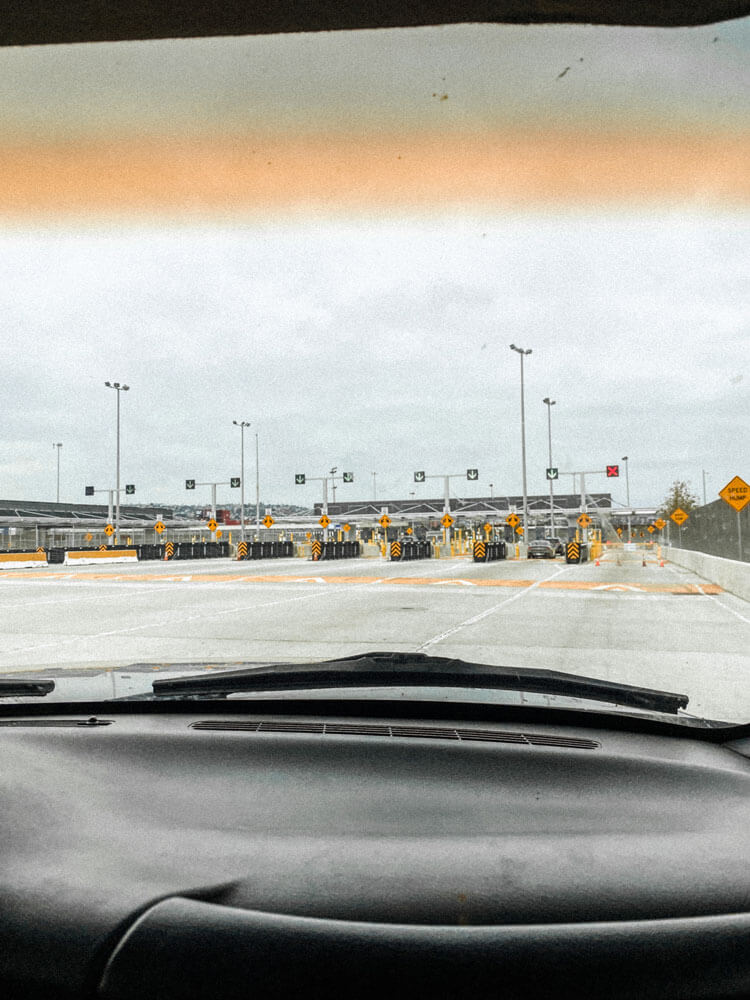 Copy of administrative documents
We strongly recommend making copies of all important documents. FedEx offices offer self-service printers to make copies.
We recommend that you make two copies of these documents in color:
Passport
Identity card
Driver's license
Vaccination certificate
Credit card
Title of the car (vehicle registration)
Car insurance
Health insurance
The copies are useful for the visa (FMM), the importation of the vehicle (TIP) and not to give your original documents to the police (sometimes corrupted) during the controls on the road. If you give the original documents, they may take advantage of it to blackmail you.
This point is some advice we would have liked to have received before leaving the USA: make a duplicate license plate.
Indeed, in Central and South America, some corrupt police officers can requisition your license plates if you break the law or simply to blackmail you into paying them a "fake" fine. We have met many travelers who have made copies of their license plates and keep the originals hidden in their van. This gives them peace of mind in case of a problem.
Prohibited products and foods when crossing the border
It is important to clean out your cupboards before crossing the border. Some products and foods are prohibited. We had a hard time finding an exhaustive list of what is and is not allowed to be imported into Mexico. Here are the things you should not have according to our research and experience:
Drug
Weapon
Alcohol
Fresh fruit
Fresh vegetables
Plants
We kept our cereals (pasta, rice and flour) and had no problems at customs.
We recommend that you change a few dollars into pesos. On the way to the border in Tijuana, you will find several exchange offices so you can do this step on the day of the border crossing. Personally, we exchanged about 300 dollars into pesos. For information, 1 dollar = 20 pesos.
The last step of the preparation is to fill up with gas and water. With this, you'll have peace of mind for your first few days in Baja.
Day D - crossing the border in Tijuana
We recommend going to Baja on a weekday, in the morning. This way you will avoid having too many people on the road. We crossed the border on a Wednesday around 9am and we had no line.
WARNING: The border crossing is a bit tricky. Follow these instructions so that you don't end up on the other side of the border without all the necessary papers for your stay in Mexico. Indeed, when crossing the border, there is no (or it is not visible) American customs. You must therefore be careful not to go through customs before you have your FMM visa.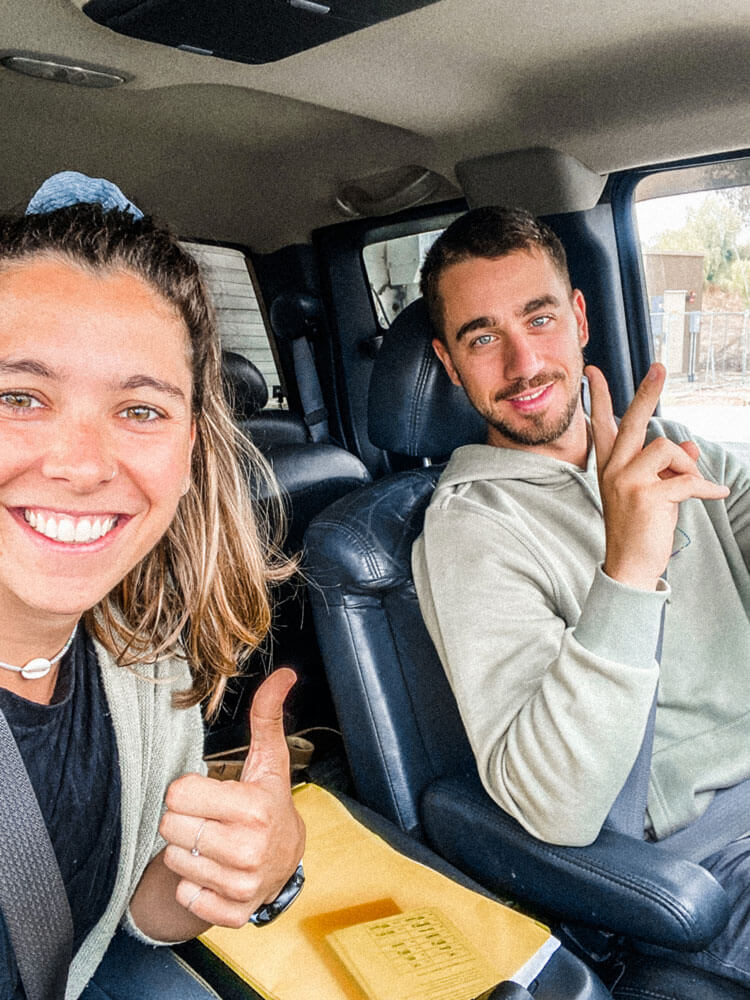 To do this, here are the different detailed steps:
Drive all the way in the right lane.
When you see a small parking lot on the right, go park.
Walk into the building with your passport and ask for "visas" to the agents you pass.
Fill out the document received by the customs officer to apply for the FMM visa.
Take this document to the Banjercito counter and pay for the visa by credit card (about 30 dollars – 600 pesos). Be sure to have the stamp on the paper and to receive the receipt of payment.
Go back to the customs officer and give your passport to receive the stamp
Before you pick up the car, make sure you have the stamp in your passport and on the FMMP visa and that you have the receipt for the visa payment. Without these documents, you will not be able to do the TIP (temporary importation of the vehicle).
We have heard of travelers who have crossed the border without doing the FMM visa (customs officers do not check it when you cross the border. They got stuck in La Paz and had to fly to San Diego to get the visa. It is impossible to get a visa at any other place than a Mexican border.
Vehicle Temporary Import Permit (TIP)
In Baja, it is not mandatory to temporarily import the vehicle. That's why we preferred to do it when we took the ferry from La Paz to Mazatlan.
If you still want to do the TIP, you can do everything in the same building. Here are the documents to prepare:
Mexican insurance documents for the car
Color copy of the car owner's passport
Color copy of FMM visa
Color copy of the car's Title (registration card)
If you have a Truck Camper, a color copy of the Title ( registration document) of the Camper
Once you have your visa, you are ready to cross the Mexican border. Customs officials will stop all converted vehicles for inspection. This is the time when it is important to have sorted out the food and products that are not allowed in Mexico. They search every corner of the van and often ask for documentation and insurance. Just be friendly with them and let them do their job. Once you pass this checkpoint, you are officially in Baja!
Welcome to Baja California
Before enjoying Baja to the fullest, we recommend that you stop at a Soriana to shop and buy a Telcel SIM card. We stopped here to shop and here to get a SIM card for our phone.
For internet in Mexico, we advise you to follow this tutorial. The consumption of internet data in Mexico is incomprehensible. It is consumed at an incredible rate.
If you use the internet regularly, we advise you to buy unlimited data for 2 hours for 15 pesos and to deactivate cellular data when you are not using it.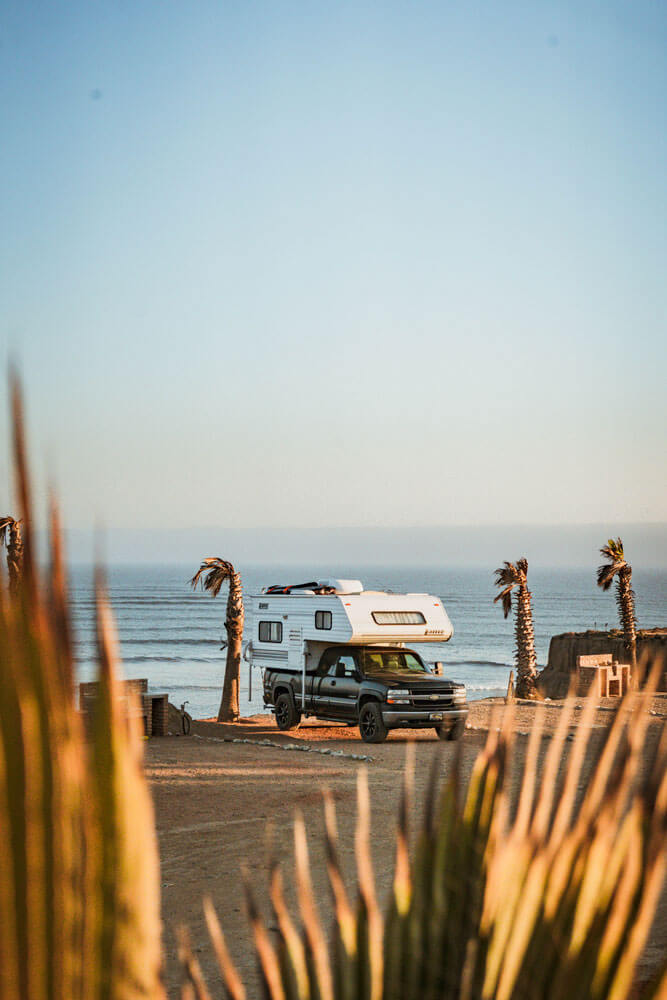 And here you are, you have arrived in the most vanlife friendly region. Now it's your turn to enjoy the dream spots on the big desert beaches, surfing, snorkeling and tacos galore. If you have any other questions, feel free to comment this article or to contact us via instagram.
Did you like the article?
Pin it !